Under Federal and California state laws, it is illegal to discriminate on the basis of a person's race or color of their skin. It is unlawful for an employer to discriminate in the "terms or conditions of employment," which means anything related to someone's job, including their position, pay, title, hours, benefits, and anything that is a term or condition of employment.
If you think that you have been discriminated against because of your race or the color of your skin, get in touch with a California race discrimination attorney at The Nourmand Law Firm as soon as possible. We will evaluate your case and represent you in court so that you can file a lawsuit against your employer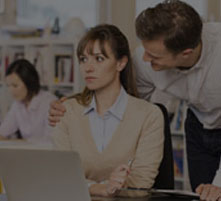 Employees and groups across all industries are vulnerable to becoming victims of race discrimination. Some of the most common examples of race discrimination include:
Wrongful termination because of race
Unfair job assignments
Unfair hiring or promotion practices because of race
Unequal access to training or promotion opportunities because of race
Discrimination against a minority or because of an employee's religion
Covert and indirect harassment based on race
In 2004, the Equal Employment Opportunity Commission (EEOC) of the United States received 27,696 complaints of racial discrimination in the workplace. Since the mid-1990s, the numbers have increased by approximately 125 percent. Not only is race discrimination and harassment illegal in the workplace, but it is also very cruel and can compromise an employee's ability to perform their job, and future jobs, successfully.
Every situation that involves race discrimination is different, and it is in your best interest to consult with a race discrimination attorney or race harassment lawyer at The Nourmand Law Firm so that we can protect your rights. We can help you with your race discrimination case because we know the Federal and State race discrimination laws that will apply to your case and use them to support your case in court.
A qualified and experienced race discrimination attorney from The Nourmand Law Firm will work to recover damages and help you get the compensation you deserve. If you believe you have been the target of racial discrimination or harassment because of your race, you may be entitled to the following types of compensation:
Back pay
Front pay
Emotional distress
Punitive damages
Attorney fees and costs
Racial discrimination can have a negative impact on the quality of your life and is unfair to you and other employees. If you have been discriminated against because of your race, keep in mind that you do have several legal options and you also have the right to take your employer to court.
The experienced race discrimination attorneys at The Nourmand Law Firm can assist with all aspects of your case and represent you in court. Whether you've been dealing with ongoing harassment, or are the victim of a particular situation that can be defined as racial discrimination, you have the right to receive compensation for the pain and suffering you have endured.
Contact the California race discrimination attorneys at The Nourmand Law Firm today so we can evaluate your case and help you get the compensation you deserve. Our experienced team will aggressively represent your case and protect your rights every step of the way.
Get A
Free

Case Evaluation

We are here to help you with law questions